Nollywood actress, Iyabo Ojo has lamented over the many burdens on her and her challenges with Lagos State government.
In a lengthy post on her Instagram page, the movie star used herself as an example, of why many celebrities don't speak out on issues in the country because of the consequences.
Iyabo noted how her support for Comedienne Princess's foster daughter, and support for Labor Party and Peter Obi has cost her a lot.
She lamented over how she has to constantly pay all her business tax, mortgage tax, and loan tax; be the breadwinner of her family, and pay the bills of over 30 people who depend on her.
To make it worse, since 2020, her business has been going through ups and downs, hence why she bought her house on a mortgage yet her bills keep increasing.
Iyabo added that with the little she makes and the bills which are so overwhelming, she is unable to save.
"I'm too outspoken, too confrontational, too blunt, they say …….. my opinion must not be heard unless it aligns with theirs, I must stay silent or get cr!ppled, the witch hunt is eating deep into my soul but ……. damn, the hate screams louder. I fought for a girl child who was sexually molested, I was labelled bad & evil bcos one of my own (Yoruba) (senior colleague) was the accused, again i chose to follow my heart & support LP & the hate & resentment grew even worse & i was labeled an (Omo Ale Yoruba) & now i must pay a compulsory best of judgment based on my celebrity status by the Lirs of over 18m personal income tax…. so now i have paid from 2014 – 2019….. but i must pay the remaining of almost 18m for 2020 – 2022 b4 the end of Nov or go to court…. every effort on my part to reduce it was rejected, even when i had to forcefully accept it, my payment plan has also been rejected, i even had to write an apology letter, yet they refuse to give me an easy payment plan, now tell me if this is not witch hurting, and I'm suppose to stay silent.
Since 2020, which was the COVID-19 lockdown season, who really made money, tell me? if I had made so much I wouldn't have bought my house on a mortgage, since 2020 my business has been going through ups and downs, yet I still constantly pay all my business tax, mortgage tax, loan tax, etc……
.
I'm the breadwinner, with over 30 people depending on me, the dollar rising almost every day, fuel high, diesel high, everything expensive, but still, I was given 3 months to pay over 18m, how?????
.
The money we make, the bills are so overwhelming even to save is a problem…
.
Which kind of business will you people have me do to make a profit of 18m to pay you this period…
Why is my payment plan being denied, Why?
Guy's, please don't blame celebrities who chose not to speak up or lend their voice, Doing so comes with a lot of consequences….".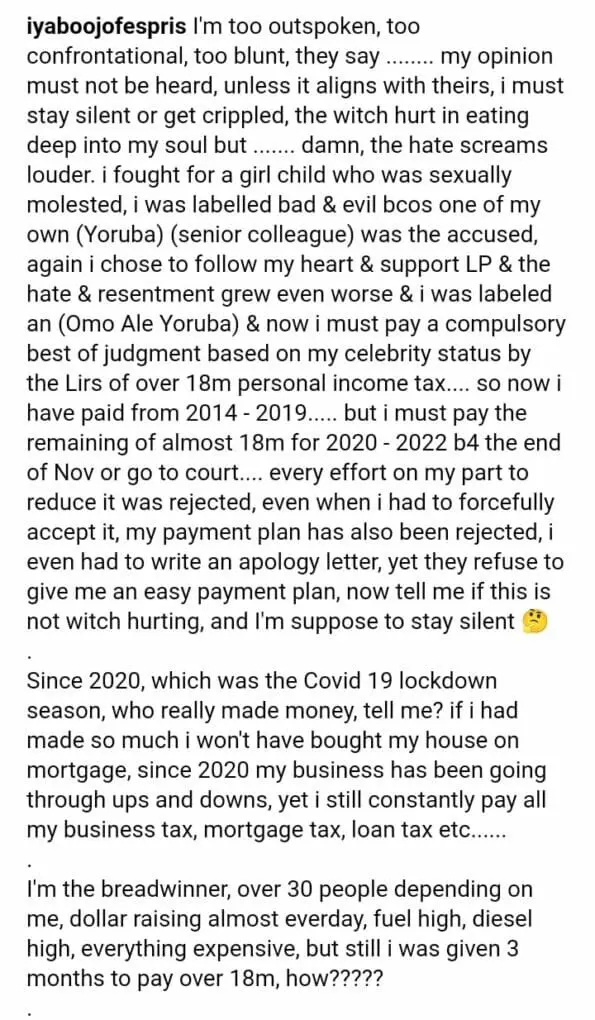 Recall that early this year, the businesswoman had called out Governor Sanwo Olu and the entire Lagos state government over the outrageous tax bill sent to her.
Sending a message to them, Iyabo Ojo made it clear that they can't break her as none of them made her who she is today.
She boldly declared that she Stan and re-stan obediently on her beliefs and can never be pressured nor shaken not be made to how down to tribal bigots.
Iyabo Ojo stated that she wants a better Nigeria and doesn't care whose ego gets bruised as she isn't afraid to air her opinion.