The Minister for Humanitarian Affairs and Poverty Alleviation, Dr. Betta Edu, Friday flagged off the distribution of non-food items to the Internally Displaced Persons (IDPs) covering over 900 households at Shwari Camp 5 in Maiduguri, the Borno state capital.
The relief items include hundreds of mattresses, pillows, blankets, footwear, wrappers, and treated Insecticide mosquito nets.
The Minister assured the 480,000 unregistered IDPs that the Federal government was not unmindful of their plight and humanitarian needs, saying President Bola Ahmed Tinubu's Renewed Hope Agenda, geared toward eradicating poverty will cover them directly working with the state Government.
She promised them that the social register, conditional cash transfer, and other social intervention programs of the federal government would be extended to them.
Dr. Edu expressed optimism that the relief items will go a long way in cushioning their harsh living condition and Government will provide more durable solutions for them to cater for their families.
"The goal is to get everybody wherever they are, out of poverty and humanitarian crises, this is the commitment of President Bola Ahmed Tinubu.
"The President has directed that Nigerians who are living under one dollar per day, not even one dollar ninety-five cents daily, should be reached and pulled out of poverty.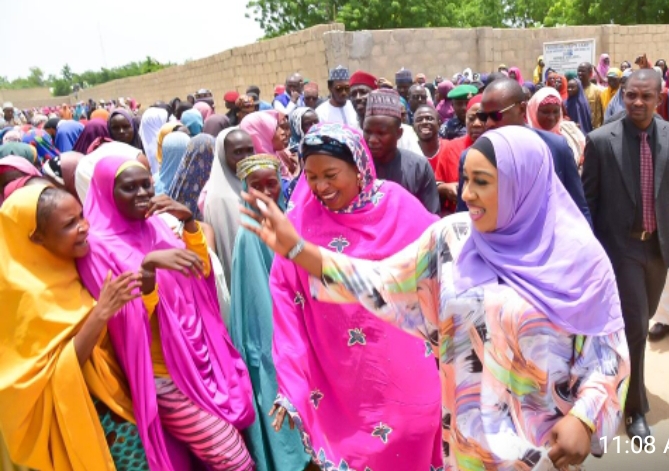 "Vocations and skill training, micro small and medium size enterprises amongst other interventions are important for those who are here and ready, but for those who can trace where they came from, we will reunite them with their families and provide them with economic start-up capital to remove them and their families out of poverty", the Minister said.

Continuing, Dr Edu said: "For some of you who have lost your husbands or children, Mr President says your resettlement is inevitable, in partnership with the State government and other development partners.
"President Tinubu has asked me to tell you that, you will be given economic startup and properly reintegrated back into society"
She lamented the poor living conditions of the unregistered IDPs who are largely from Northern Borno, vowing "we must change the narrative". She commended the state Governor Professor Zulum for being exceptionally hands on!
The state Commissioner for Women Affairs and Social Development, Hajia Zuwaira Gambo, who was on hand to conduct the Minister around the camp said, the state government had at various times provided for the IDPs.
Gambo appealed to the Federal Government through the Minister to complement what the Borno state government is doing to ease the suffering of the IDPs. She lamented that the number of IDPs keeps increasing daily.
"We appreciate your coming, Honourable Minister; the distribution of these nonfood items will go a long way to cushion the suffering of these IDPs.
"We equally appreciate Mr. President for his interest in the humanitarian needs of our people in various IDP camps in this state", the Commissioner said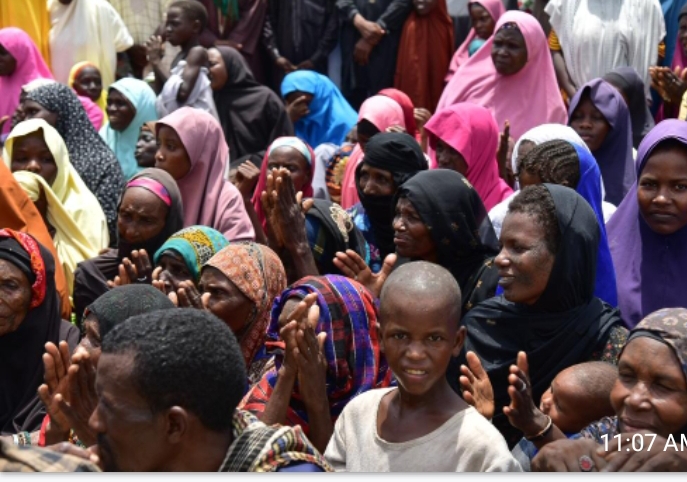 The Minister was accompanied to the IDP camp by the Acting Honourable Commissioner, National Commission for Refugees migrants and IDPs, Ambassador Catherine Udida, and other top officers of the Ministry of Humanitarian Affairs and Poverty Alleviation